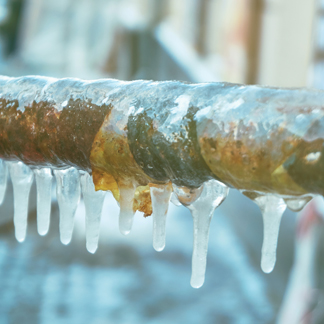 Winterize Your Plumbing Before It's Too Late
You may not want to admit it, but we're in the waning weeks of warm weather. While seasonal plumbing maintenance is ever important, it may not be more critical than in the fall. When the temperatures drop, you'll want peace of mind knowing your property's pipes will be ready for winter. 
For that reason, now is the time to be proactive and winterize your building's plumbing system.
Winterizing plumbing pipes creates a safeguard for residential and commercial buildings against potentially dangerous frigid weather. When water freezes inside pipes, it expands as it turns to ice. The expansion produces extreme stress within pipes, causing the potential for problematic leaks and catastrophic breaks. With compromised pipes, you're not only depriving yourself of water, your building can fall victim to heavy damage from the hundreds of gallons of water spilling out.
Here are tips to protect your home or building's plumbing system. 
Keep the Water Flowing
Leaving your water system inactive for too long is Jack Frost's dream situation. When water isn't running, it sits in wait—asking to freeze in cold temperatures. Because water typically doesn't freeze when it's running, regularly turning the tap keeps water on the move. Though dripping water may freeze, opening faucets relieves pressure within pipes. Pay attention to forecasts so you know when to take preemptive measures.
Insulate Your Pipes
Sounds obvious, right? Well, it's as easy as it is obvious. Buy foam pipe insulation that's easily slipped over pipes without the hassle of having to disconnect them. Foam thickness depends on the width of the pipe. Be sure to measure each pipe you plan to cover gather enough to cover accessible pipes found in the interior of your house, attics, crawl spaces, and your garage. 
Regulate Indoor Temperatures
Opening cabinet doors below sinks is an easy way to allow warm air circulation to concealed pipes. To prevent cold air from entering the building, keep garage doors and windows closed. This ensures pipes lining the interior of connected walls are unaffected by the harsh temperatures. 
Seal, Cover, Plug
You'd be surprised how much damage the smallest window crack can do to your plumbing system. Cold air will find its way into your building through any possible opening, putting the condition of your pipes at risk of damage. Regularly inspect windows, doors, ceilings, ductwork, wall sockets, wiring, and of course, plumbing. In the event you discover exposures, seal them completely with weatherstripping or insulation. 
Problems with your plumbing system can ravage a building. When you say YES to Yagla Engineering Services' custom plumbing pipe system designs, protect your investment with these tips and tricks from potential disasters. Remember, winter is coming.