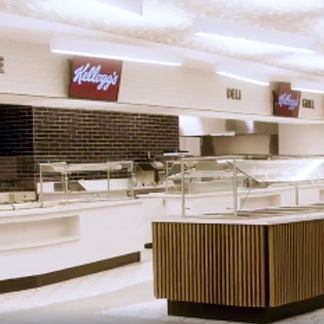 Kellogg's Welcomes Their Team Back With A Newly Remodeled Headquarters
After having to work remotely since March 2020, employees of Kellogg's Company are eager to get back to the office. Instead of limiting communication to their computer screens, people can finally return to greeting each other in person. While projects and workflow may remain the same, they won't be returning to the same office they left last March. Well, at least on the surface.
Over the past several months, we had the opportunity to be a part of Kellogg's remodel of their 300,000 square foot HQ campus located in Battle Creek, MI. Our role in developing the stunningly modern space was crafting a reliable plumbing network that suited new indoor facilities and subsequent water flow. Additionally, we were integral in the electrical engineering process, creating and redirecting electrical components that accommodate the new building layout. 
"It was truly an honor being a part of such an amazing project," says Tina Yagla, owner of Yagla Engineering Services, Inc. "The way everyone was able to communicate with one another and stay connected made the process so much easier. Their employees are going to find that the new facility is as highly-functioning as it is aesthetically eye-catching."
Check out Kellogg's LinkedIn page for a sneak peek at the new office building they get to call home.