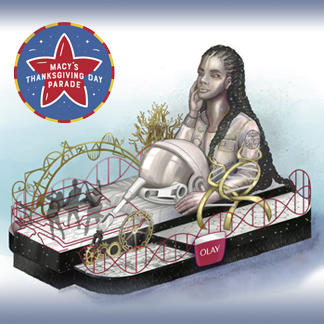 Macy's Day Parade featuring Olay's Women in STEM Float
An important collaboration is teaming up this Thanksgiving beyond turkey and football. One is a time-honored Thanksgiving tradition seen by millions since 1924. The other is a burgeoning movement that will hopefully become a non-issue. Olay's Face the STEM Gap is featuring a Macy's Day Parade float, dubbed Her Future is STEM-sational, dedicated to women in science. It will be the first skincare company to feature a float.
The 94th edition of the parade will look different this year as so many other events in this pandemic. However, the feeling of nostalgia, the wonder of the floats, and the euphoria of seeing Santa Claus will still come through your TV as before. What Olay also wants girls and women to experience is how exciting a career in STEM can be. Women make up just 24 percent of jobs in science and technology. That is a monumental gap, but Olay is determined to bridge that gap with a 10-year commitment to double the number of women and triple the number of multicultural women in STEM.
The elements and symbolism of the float are described in a press release from Macy's:
"The Her Future is STEM-sational float features visual representations of the core STEM fields of science, technology, engineering, and math. A double helix skates around the perimeter of a female astronaut's galactic float, where a helmet is positioned as a nod to Olay's #MakeSpaceForWomen campaign from February's big game. A robotic arm acknowledges engineering. Mathematical symbols and computer codes climb across one half of the float, and technology is represented by the circuit tree found next to the astronaut. Science-packed with more than 60 years of Olay's rich research and development, the symbolic Olay jar ties together the inspiring float."
As you know, the wish for more women is STEM is a fervent one for us here at Yagla Engineering Services, Inc. We are proud to be a woman-owned business in mechanical engineering. Tina Yagla, owner of YES. has an impressive STEM background and believes it's important to instill excitement for STEM at a young age.  There's always room for more dynamic, intelligent, tech-savvy women working in and owning STEM companies.